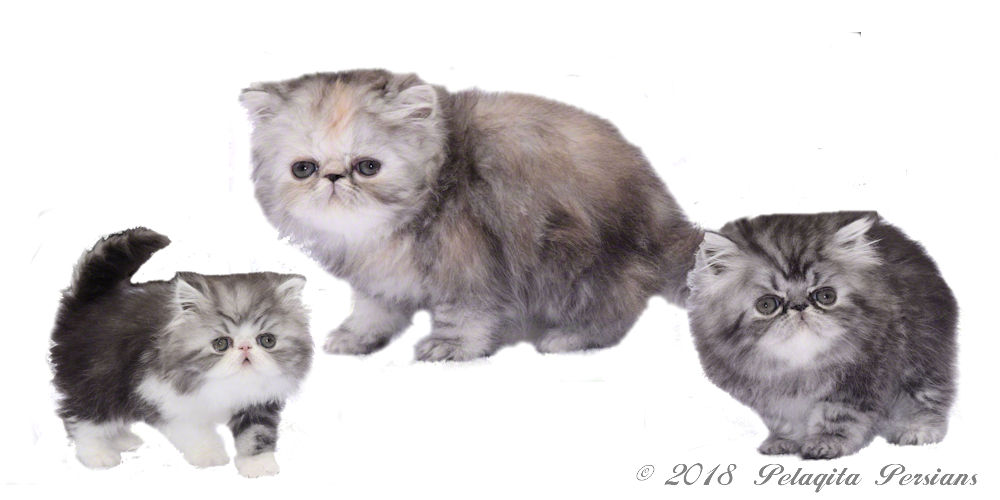 Check out our Facebook page to see pictures of the kittens. To find the correct album for each litter, click on "PHOTOS", click on ALBUMS, and SEE ALL. Each litter has its own album which is titled by the dam and sire's names.
The information on this page is important, before looking at the pictures, please read what we have written.
We reserve the right to refuse sale to anyone at ANY time with no explanation.
The Persian cats and kittens that we have for sale are shown below (kittens are listed first).
To Be Considered For One of Our Persians:
If you would like to be considered for one of our Persian cats or Persian kittens, please read our Placement Policies which includes a sample of our Health Guarantee/Contract. Read the Contract, if you do not, we will not accept your Application. After that, if you would like to be considered as a possible home for one of our kittens, please complete and submit the Application form.
Pet Quality Persian Kittens (Non-Show Homes)
All of our Persian kittens are altered prior to being placed in to a non-show home (pet home).
Breeder Quality or Show Potential Quality Persian Kittens
We welcome inquiries from people that desire to possibly show and/or breed their Persians. Please note: We ONLY sell intact kittens to show homes. People that show their animals are adhering to the Persian Breed Standard (a set of criteria the breed must meet in order to be considered Breeding or Show Potential animals) and are dedicated to improving and preserving the Persian breed. Cat shows (competition) are the only true way to determine if a breeder is producing progeny that meet the Persian Breed Standard. Does that mean that every kitten is show or breeder quality? NO! Genetics being what they are, a breeder considers herself or himself extremely lucky to get one show potential kitten in a litter. Beware of breeders that saw every kitten they produce are "show quality".
For information on breeder or show quality Persian kittens, please Contact us.
Persian Kittens For Sale
We are breeding and having kittens.  However, my waitlist is currently about 12 - 18 months out.  Thank you for your patience and understanding.
Persian Cats For Sale
None at this time.
Persian Cat and Kitten Prices
Persian cat and kitten prices will vary depending on color, adherence to the breed standard, and availability.
Persian kitten price

| | |
| --- | --- |
| Persian Kittens (pet home, already spayed or neutered) | $900 - $2,000 |
| Breeder Quality Kittens (intact with breeding rights) | $1,500 - $2,500 |
| Show Quality Kittens (intact with breeding rights) | $2,000 - $3,500 |
| Show Quality Kittens for Premier Classes (altered cat - no breeding rights) | $900 - $2,000 |
Retired adults are priced very reasonably (includes spay/neuter fee) at $600 - $800.
Pelaqita Persian cats has earned the CFA Cattery of Excellence for 2005, 2006, 2007, 2008, 2009, 2010, 2011, 2012, 2013, 2014, 2015, 2016, 2017, 2018, 2019, 2020, and 2021. Please click on the first banner below for more information on the Cattery Inspection program. This will open in a new window on the CFA site.