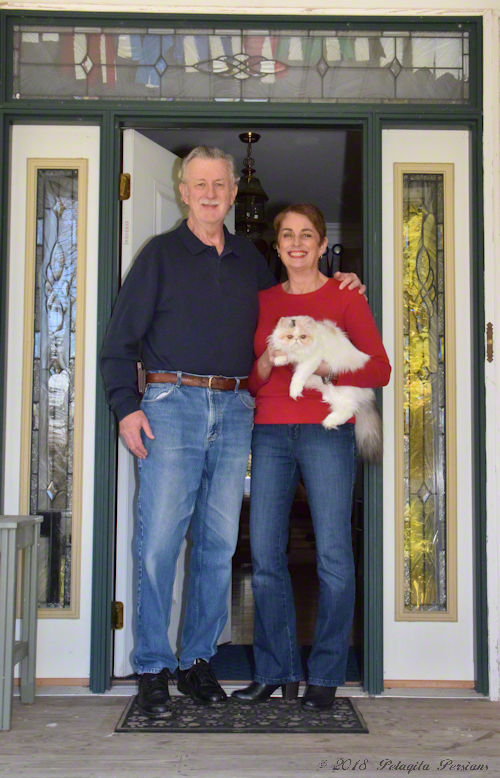 I am a CFA registered cat breeder of Persian kittens with written Guarantee. At Pelaqita Persians, I focus on breeding healthy, well-socialized Persian kittens.
Unlike commercial-for-profit breeders, I allow my kitten clients open access to my home to see how their kitten is being raised and to meet the kitten's parents. This website contains information and articles from the history of Persian cats,  pictures of our Sires and Dams, information on - the type of Persian cat breeders who are breeding Persian cats, and how to find a good Persian cat breeder. In addition, we offer information and educational resources including articles about - grooming Persian cats, supplies and toys for Persian kittens and cats, feline behavior, the PKD1 health issue, nutrition for kittens and cats, animal rights, and recommendations for books about Persian cats.
I am proud to be a PKD1 free cattery. Our breeding cats have been DNA tested by Optimal Selection which runs a genetic testing panel for  40+ genetic health tests, plus blood type, along with traits and genetic diversity. One of these tests is the PKD1 gene.  All of our cats are negative. Therefore, all of our kittens are PKD1 negative.
We have Persian Kittens for Sale throughout the year. I specialize in some of the most popular and requested colors of the Persian Breed: calico, tortoiseshell, and blue-cream. My kittens' colors range from silver, black, blue, cream, red, cameo and smokes as well as subtle variations within these colors including Tabbies and Bi-Colors.
John and Susan MacArthur
Placement Package
I provide each new Persian Kitten owner with an extensive Kitten Placement Package.  This Kitten Placement Package is what is provided to Pet homes ONLY.
A kitten that has already been spayed or neutered
A kitten that is already registered with the CFA
A kitten that has been microchipped
Age-appropriate vaccinations and wormings
A copy of the PKD1 negative certificate for the ancestors of your kitten
A Healthy Start Pack of food for your kitten
Information on grooming and bathing, feeding and nutrition, and care of your kitten
My open-door policy of ongoing support for your kitten
Why Buy From Pelaqita Persians?
I breed to the CFA (Cat Fanciers Association) Persian Breed Standard. It is not uncommon for people to come back for a second kitten just because my after-sale support is second to none.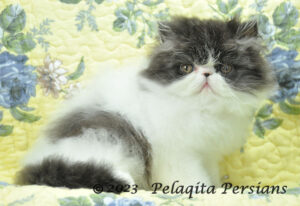 In my search to find a Persian kitten as a companion to my 6 month old kitten, I dealt with 4 breeders of Persian kittens before I luckily found Pelaqita Persians. Unlike the other breeders, Susan is quick to respond to inquiries and professional.
From the moment we agreed that I would get one of her kittens, she was easy to work with and she provided regular photos and videos so I could watch the kitten before it was time to bring him home. The cats are beautiful with sweet personalities.
Susan has been available to answer my questions and to help new kitten owners with information about kitten care.
I'm glad I found Pelaqita Persians!
Vicky V.
September 2023

I am an RVT (Registered Veterinary Technician) with extensive rescue experience. The term "cat breeder" instinctively makes me flinch. However, getting to know Susan and John has been a truly wonderful experience. Susan exemplifies what ANY animal breeder should STRIVE towards.
Her cattery is immaculate, her animals want for nothing. She has enough sense (and compassion!) to seek veterinary care when appropriate. Her pride in her animals is evident in every aspect of her program.
I would not hesitate to recommend her to anyone looking to purchase a purebred cat, and I would also send any aspiring breeder her direction for a lesson or two in decency and respect for their animals.
Lauren
Check out more References here.