Persian Kitten Placement Package
I provide each new Persian kitten owner with a packet that includes the following:
Persian kitten - which is spayed or neutered prior to going home.
Cat Fanciers' Association (CFA) registration certificate.

 

Please note: Prior to the kitten going home, at my cost, I will be registering each individual kitten with the CFA. Please refer to my Placement Policies section

 

for more information on Individual Registration with CFA.
Each kitten is microchipped and registered with the Microchip Registration Center ®  as well as the national registry. I take care of the online registration and the cost of the registration is included in the price of the kitten/cat. For further reading and resources about microchipping check out this article, The Dog Microchip Guide.
Written contract with a five (5) year

 

Health/Genetic Guarantee;

 

if you agree to continue feeding Life's Abundance food, (otherwise a one (1) year health guarantee will be offered).
I also offer a six (6) year addendum specifically addressing

 

Hypertrophic Cardiomyopathy (HCM).
My Persian kittens do not leave my home until they are ready, usually between 12 and 16 weeks of age. Each kitten will receive age-appropriate kitten vaccinations. If the kitten goes home at 12 weeks of age, the kitten will have received two of the three required kitten vaccinations. If the kitten goes to its new home at 16 weeks of age, the kitten will have received all three of the required kitten vaccinations. The kitten vaccination is a three-way vaccine containing: feline rhinotracheitis (herpes virus), calicivirus, and panleukopenia (commonly referred to as "distemper" vaccination). We ONLY use "PureVax" modified-live virus (MLV) vaccines.
Age-appropriate preventative worming(s) with Revolution.
Two PinkPawPal combs:
Large - 1/8" x 9"
Small - 0.8" x 5"
In honor of each kitten placed, a donation in the amount of $100 will be made to the EveryCat Health Foundation (f/k/a Winn Feline Foundation) for the research of Hypertrophic Cardiomyopathy (HCM). The new owner will receive notification from the Winn Feline Foundation saying a  donation was made in honor of their kitten.
PinkPawPal Professional Grooming Products for cats and dogs. (sample sizes - see below description)
A 4-generation pedigree.
A photograph of your kitten's sire and dam.
A copy of the sire's and dam's PKD1 negative certificate (or relevant ancestors in the kitten's pedigree).
Information on grooming, feeding, and care of your kitten.
Our open-door policy - I am available to assist you in any way I can in order to ensure that both you and (y)our Persian kittens and Persian cats have a full and happy life.
Healthy All Stages Start Pack for Kittens and Cats contains:
PinkPawPal Professional Grooming Products
I include sample size bottles and containers of the following products for your kitten or cat:
Eye & Facial Concentrated Cleansing Solution (for eye stains)
Tear Stain Removing Powder (to prevent stains and lighten stains)
To see our current Persian cats and Persian kittens for sale.
Prices
Kittens:
$1,500 - $3,000
(Includes the price of spay or neuter)

Retired Adult Cats:
$600 - $800
(Includes the cost of spay or neuter)
Life's Abundance All Natural Cat Food Products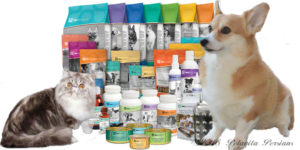 I only feed and recommend Life's Abundance cat food to all my Persian cats.
The continuation of feeding Life's Abundance cat food is a condition of our 5-year health guarantee.
If the buyer does not want to feed Life's Abundance, then the 1-year guarantee will apply.
To learn more about this wonderful, healthy cat and dog food (and other pet products), click here and visit Life's Abundance website.
Check out their new Grain-Free Dog food and Grain-Free Cat food.