What is the Feline Herpes Virus (FHV)?
According to Matthew J. Chavkin, DVM, MS - Diplomate, American College of Veterinary Ophthalmologists of  Veterinary Referral Center of Colorado - Ophthalmology (VRCC):  
"The feline herpes virus most commonly infects kittens and causes sneezing, ocular and nasal discharge, and a reluctance to eat and play. With good nursing care, the vast majority of kittens return to normal within three weeks. Vaccinated kittens may still develop the disease, but the illness is less severe. Approximately 80% of FHV infected cats become latent carriers with a 45% chance of viral re-activation. Adult cats with eye disease due to FHV are more likely to be suffering from viral re-activation than from a primary FHV infection."
Mia - Case History
Mia,  born March 4, 2019, was approximately 14 weeks old on June 18, 2019, when I noticed she had a tiny "spot" on her right eye.  Mia had had two of her three kitten vaccinations already.  I was not sure if the spot was an injury or not, but it did not appear to be causing her pain and called the veterinarian to get her an appointment.  In the meantime, with the vet's permission, until Mia could be seen at the office, I started putting an antibiotic ointment in her eye to prevent infection in case it was an injury.
On Friday, June 21, the spot had grown more substantial. Mia's eye was much weepier, and she had some slight nasal discharge.  At this time, the eye did appear to be causing Mia some pain, and I knew the "spot" was, in fact, an ulcer, and it was probably the result of the herpes virus.  My vet had ordered the antiviral eye ointment, but it would not be in for a few more days.  I was to continue with the antibiotic ointment in the meantime.
I took her into my veterinarian on Tuesday, June 21, 2019.  Mia was 15 weeks and four days old.  Mia definitely had an ulcer, and it was likely the result of the herpes virus (despite already being vaccinated).  At this visit, the veterinarian prescribed two antiviral medications:
 Famciclovir (Famvir) 125mg - an oral antiviral medication to be given twice a day.
Ofloxacin Ophtholmolic solution - an eye drop to be given three times each day.
At Mia's recheck on Tuesday, June 25, 2019, she weighed 3.5 pounds and was 16 weeks old.  I let the veterinarian know Mia was reacting as if her eye was painful every time I had to put medication in her eye and that she was becoming more standoffish.  The veterinarian wrote on Mia's chart:
"Corneal Ulcer, deep central corneal ulcer not responding well to antiviral, ofloxacin.  Started on blood serum and send home proparacaine to use in eye 1x a day.  Gave Bupsr for pain.  If no improvement by Friday, possible removal of the eye."
Mia's eye had not improved, so the vet suggested taking some blood and spinning it into serum, and the serum would be put in her eye to aid in improvement.
I was sent back home with Mia with instructions to dose her as follows:
Famciclovir oral medication, one pill twice a day
Ofloxacin eye drop three times a day
Blood serum drop five times each day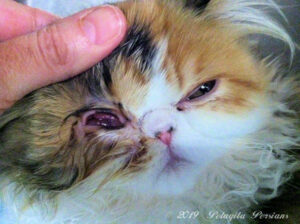 Mia - on the day of her surgery.
On Friday, June 28, 2019, I took Mia back to my veterinarian for her recheck.  Mia was 16 weeks and four days old and weighed 3.5 pounds.  The veterinarian agreed with me the ulcer was not improved, not worse, but not improving.  By this time, Mia had been getting treated for her eye ulcer for over a week, and it was obvious her eye was very painful.  The decision was made to remove the eye.
I picked Mia up later that day.  She was perky and wanted to play.  All a good sign.  Mia would continue on the oral antiviral medication for the next two weeks.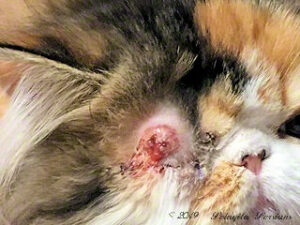 Mia on July 8, 2019, the day of suture removal.
On Saturday, July 6th, I noticed what looked like a blister on the outside of Mia's eyelid (the eye that was removed and stitched close).  I called the veterinarian as it looked suspicious.  I took a picture of the eye and sent it to my veterinarian.  She immediately let me know that there was an infection starting!  Poor Mia......
On Monday, July 8th, I took Mia back to the vet's office.  Mia weighed 3.75 pounds and was now 18 weeks old.  My veterinarian examined Mia, removed the sutures, and gave her an injection of long-acting antibiotic, Convenia, for the infection.  Mia started showing marked improvement within the next 12 hours.
On Monday, July 15, 2019, I took Mia back to the veterinarian for her last recheck on her eye.  Mia weighed four pounds now and was 19 weeks old.  The blister that had been on her eyelid was almost completely closed (less than 5mm circular hole), gaining weight, and very active.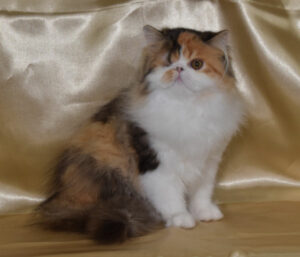 Mia on July 27, 2019. Fully recovered.
As of the writing of this article, Mia is a happy and healthy young kitten and getting ready to go to her forever home.
Click here to read more about Feline Herpes Virus.